Last week, I attended upFrontConf 2016 at the RNCM in Manchester. Not only was it an opportunity for me to learn a better understanding of front-end web development, but I made contacts with various professionals in the web industry.
One of these was the first talk, "A Field Guide To Web Accessability" which was delivered by Derek Featherstone.
He began by explaining how UX (User Experience) is not limited to just websites and applications, but to non-computerised hardware. Objects that we use in our day-to-day lives need to be easy and straightforward. If we don't know how to use an object just by looking at it, how do you expect to use it at all?
Derek went on to remind us that the web does not always work for users of various backgrounds, including disabilities. That's right, even blind people use the web! Derek mentioned that while we already have various ways of coping with problems such as low vision and even arthritis.
To name a few of his suggestions was to squint your eyes so your vision is blurred. This gives you the viewpoint of a person with shortsightedness, and helps to generate an idea how to present a product layout so it's easier for said shortsightedness. What mattered was making something that is USABLE, especially when finding solutions to the problems disabled web users have to deal with.
What really caught my attention during Derek's talk was when he talked about users on the Autistic Spectrum. Being autistic myself, I was pleased that Derek used a cartoon created by Rebecca Burgess as I felt this best represented me, and the way I think and behave.
I hope to use this information in my upcoming final year project. Keeping in mind as an autistic web developer, I think that the process of designing websites so they are mobile-friendly comes naturally to me. I also understand that even if you don't have my condition, a product is no good to you if you don't know how to make it work just by looking at it.
Many thanks to Derek for his impressive and understanding talk on UX. Up next was Charlotte Jackson, who presented "From Pages To Patterns". This talk described the complications of writing the code that makes up Front-end Web Development and the UX. She mentioned how it's an unintentional, though common occurrence to create websites choc-full of "Bloated" CSS. This means to repeat the same code over and over, which I agree is a complete waste of time.
Charlotte also pointed out the danger of code becoming "Unreadable". This could happen in many ways, for instance the terminology you use to refer to a particular div might seem a good idea at first, but it could later confuse you and make you forget what it originally meant.
Her advice for dealing with this problem was to refer to components and fully understand what they mean when using them in any project. Another interesting example Charlotte showed us was code for an eCommerce site that adopted a familiar vocabulary specific to a company. In this case, it was a Shoe-Sales company and many of the elements were coded using Shoe-vocabulary; such as sole, lace, heel, toe etc. This could come in very useful for future projects.
The last thing I remembered from Charlotte's talk was mention of "Atomic Design", which according to Brad Frost is the practice of methodology for creating design systems. After Charlotte came Rebecca Murphey; an employee of Indeed.com, with her talk "Making It Better Without Making It Over". She began by explaining how Indeed.com worked inside and out, and how improvements to web technology allow us to make websites better than when we used to.
This refers long back way before I entered the Web Industry. I remember the days of Flash, but it has since been replaced by Jquery, which is more useful and works on mobile phones! Rebecca went on to talk about the various, but dated options of framework such as SproutCore and ExtJS. She also explained the most recent history of CSS programs from Object-Orientated-CSS to Backbone.JS. Despite being outdated, those programs paved the way for Responsive Web Design, which we use today.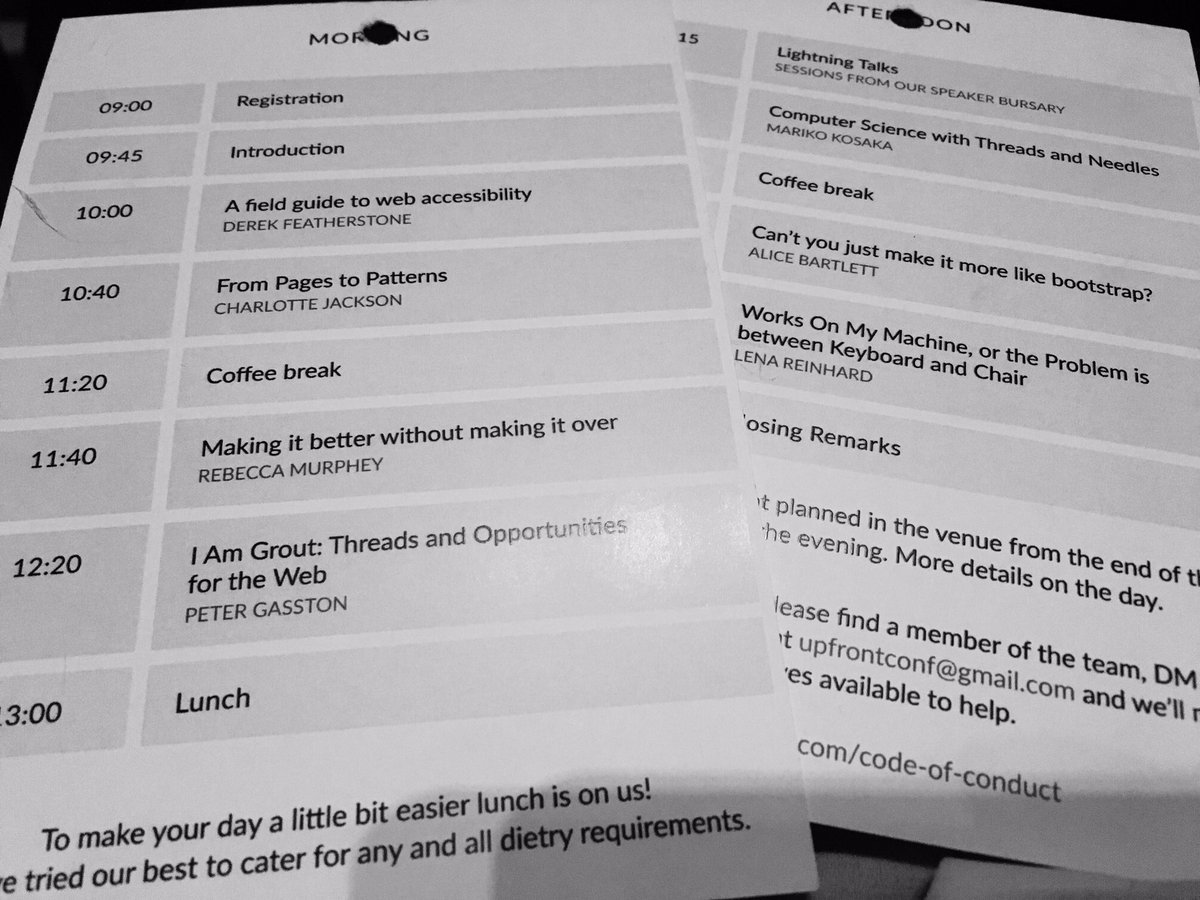 Although I wasn't able to write down notes for every speaker who came to Manchester, I managed to take in what I thought was most important to me. Admittedly, I should have brought my Dictaphone to record the rest of the conference.
In all, upFrontConf2016 was a success. In my opinion, the best conference I've attended yet. I'm looking very forward to the next one!
Photographs by myself
Upfront2016 logo:Manchester Digital.com
Rebecca Burgess cartoon:The Mighty.com
All other images are property of their respective owners